Pointy-headed reed dwellers
16 Jan 2013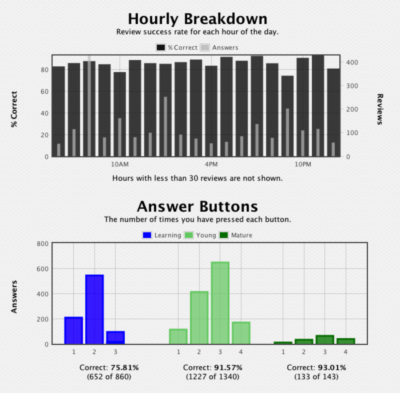 I continue to be intrigued by the capacity of my brain for memorising new things. I wanted to test myself on learning things that're (essentially) useless (to me), that I wouldn't accidentally rehearse during 'normal' life. Over the past 3-and-a-bit months, in about 7 hours' total study (less than 5 minutes a day), I've learned 350 cards. At the beginning of the process, I knew nearly none of the facts contained on them.
The majority are the latin names of commoner British birds (to and from Latin/English). I reckon I know all the birds I'm likely to see, and I go out of my way to see birds.
I've also been "Anki-ing" on:
geography of US states (reckon I got this in about 3 days, and I was an ignoramus on them before)
keyboard shortcuts for programs I use (useful)
family phone numbers, my own credit card and bank details
facts about polar exploration
data relating to the UCI World Hour Record (cycling)
pteridophyte anatomy and life cycle
Some stats so far:
350 cards
12 sec per card review, on average
~80% average success rate
Longest future 'spaced repetition' interval: 8.8 months
Some learnings:
Even if I don't know the Latin, knowing the meaning of a term helps cement it in my memory. Acrocephalus schoenobaenus? The pointy-headed reed-dweller? Oh that'll be a Sedge Warbler. (note, not a Reed Warbler).
Draw pictures. It's fun and it helps.
Have someone read the "front" of the cards to you. This means you sort of perform, which seems to help. Thanks, Sarah!
Play games. There are some good jigsaw-type games for tablets that help with geography.
Recommended reading for bird geeks: Scientific bird names explained
< Previous post
|
Next post >