Broken thermometers no longer exist
29 Apr 2013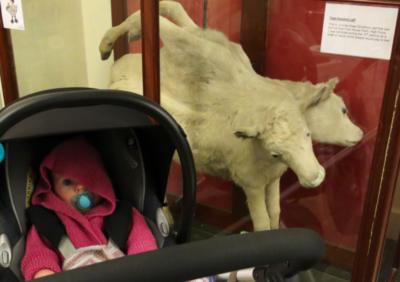 From a caption at the exhibition at the Bowes museum, Barnard Castle (Jeremiah Dixon - Scientist, Surveyor and Stargazer):
This thermometer is probably identical to those taken to Cape Town by Jeremiah Dixon and Charles Mason in 1761. The actual thermometers they used got broken on the way home, so no longer exist.
If things that got broken ceased to exist, a lot of museum exhibits would take on a whole new dimension. I also wondered: why was I disappointed that the actual thermometer wasn't on show? Even behind a glass case, out of the reach of all my senses, excepting vision, an object labelled as the actual thermometer would've had a magical, irrational aura about it. My favourite example of this is Frank Worsley's watch, on show in the Scott Polar museum in Cambridge.
I attach a picture of Iris next to a two headed calf, for no particular reason.
< Previous post
|
Next post >