Tyred of cycling
09 Nov 2014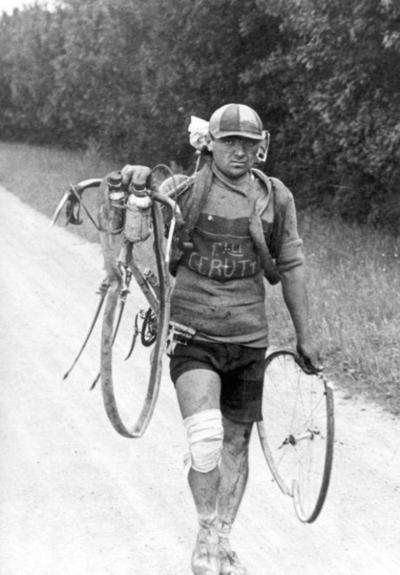 There are times when cycling is just not cool. Having had four punctures within a week, on the same wheel, I gave up crouching in my garage and took my front wheel to my local bike shop. For this story, it's important to realise that I have more than one bike, and I used a working one to pedal over, carrying the rogue wheel in one hand and steering with the other.
After I persuaded the proprietor that I really didn't want to go home and log onto wiggle to buy more tyres, he agreed to sell me one and to install it for me. I think I've dinked the rim with a tyre lever, because whenever I tried my tyres would bulge up while inflating - one inner tube exploded on me.
I cycled back later the same day; Chris had got a new puncture proof tyre on the wheel and so I decided to buy a matching new tyre for the other wheel. I like to look good on the bike.
My challenge then was: cycle home carrying a spare wheel and a spare tyre. With heroic, grimy images of Tour de France legends in my mind, I slung the spare tyre over my head, across my chest and set off, carrying the wheel in my left hand. I imagined I looked like a slow version of Fausto Coppi. See attached photo which shows Guisto Cerruti in 1928. What I had mis-remembered was that cyclists of old carried inner tubes that way, not whole, semi rigid tyres.
Within a few yards I found myself freewheeling towards an obstacle, with only one hand on the handlebars, unable to steer or brake because the tyre had slipped down to my waist, pinning both arms to my sides like a clown in a Hulahoop. Not good!
< Previous post
|
Next post >