Geeky review of 2014
10 Jan 2015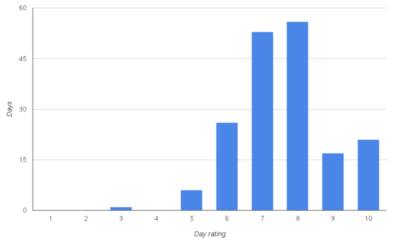 From a purely personal point of view, I'd give 2014 about an 8 out of 10. 7.62, to be precise.
At the beginning of the year, I began to "Beemind" myself into writing a few sentences about each day and, following the example of my great and wise friend Billy, I rated each day out of ten. Not out of some desire for constant improvement or obsessive measurement (I'm into both of those) but because I was envious of his ability to jump into Evernote and call up any of his "ten out of ten" days in an instant.
Beeminding is great if your motivation muscles work like me. I find it a great way to get myself to do all those things that I used to wish I did. It's got me doing more reading (4.91 times per week; my target was 5 per week), playing the piano, more cooking. Iris has had vitamins four times a week (previously it was one, or less - we didn't really know). It broke me out of a flatline on my Anki reviews as well.
Top days from 2014:
Grade 4/5 ice climbing in very special conditions on Ben Nevis
Sunny day at Flamborough beach at Easter
Nightjars, hoopoes and nightingales, wonderful friends and barbecued rabbit in Tuscany
Белые ночи in St Petersburg, and visiting The Hermitage
A Burgoyne Breakfast, fancy dress and screaming Jens Voigt's name as he blasted past in the lead on Stage 1 of the Tour de France (all in one day)
3 hours on the Bass Rock and watching gannets dive 3 feet away from our boat
10 Munros in 5 days in August
Finding out we're having another baby next year
An impromptu swim in the Thames on an annual boys' boat trip
Leading my first outdoor route at Fire Curtain in the Peak District
A few other observations about the year:
12,849 emails in 5,623 conversations (quite a lot are just automated notifications). Continuous "inbox zero" since April.
rmorrison.net has a tiny readership but it went down by 0.9% compared to the previous year. At the risk of letting all my friends know exactly how geeky my blog is, I plan to start tweeting and posting to Facebook when I write here. Owlstone's website, on the other hand, enjoyed 26.1% more users than last year. Organic traffic is 50.53% up with a lower bounce rate.
I realise this is a self-centred review of 365 days and I'm acutely aware that 2014 was not a great year for everyone in the world, in particular for some of my best friends. I count myself very lucky to have had such a good one and hope to make the coming year a good one for everyone I can.
< Previous post
|
Next post >