Developer Team Building
If you're looking for a team building activity for developers, you should consider /dev/esc - the online escape room for developer teams.
/dev/esc is a new remote team building idea. It works in person too. Challenge your team of software engineers to solve programming puzzles and obtain the clues they need to escape. Designed for 1-8 players (it supports up to 12), it is an ideal and enjoyable way to build team cohesion, socialise and geek out.
Players just need a computer (you could watch but not easily participate from a mobile device) and an internet connection. The game works with any video conferencing system because all you need to do is screenshare and chat.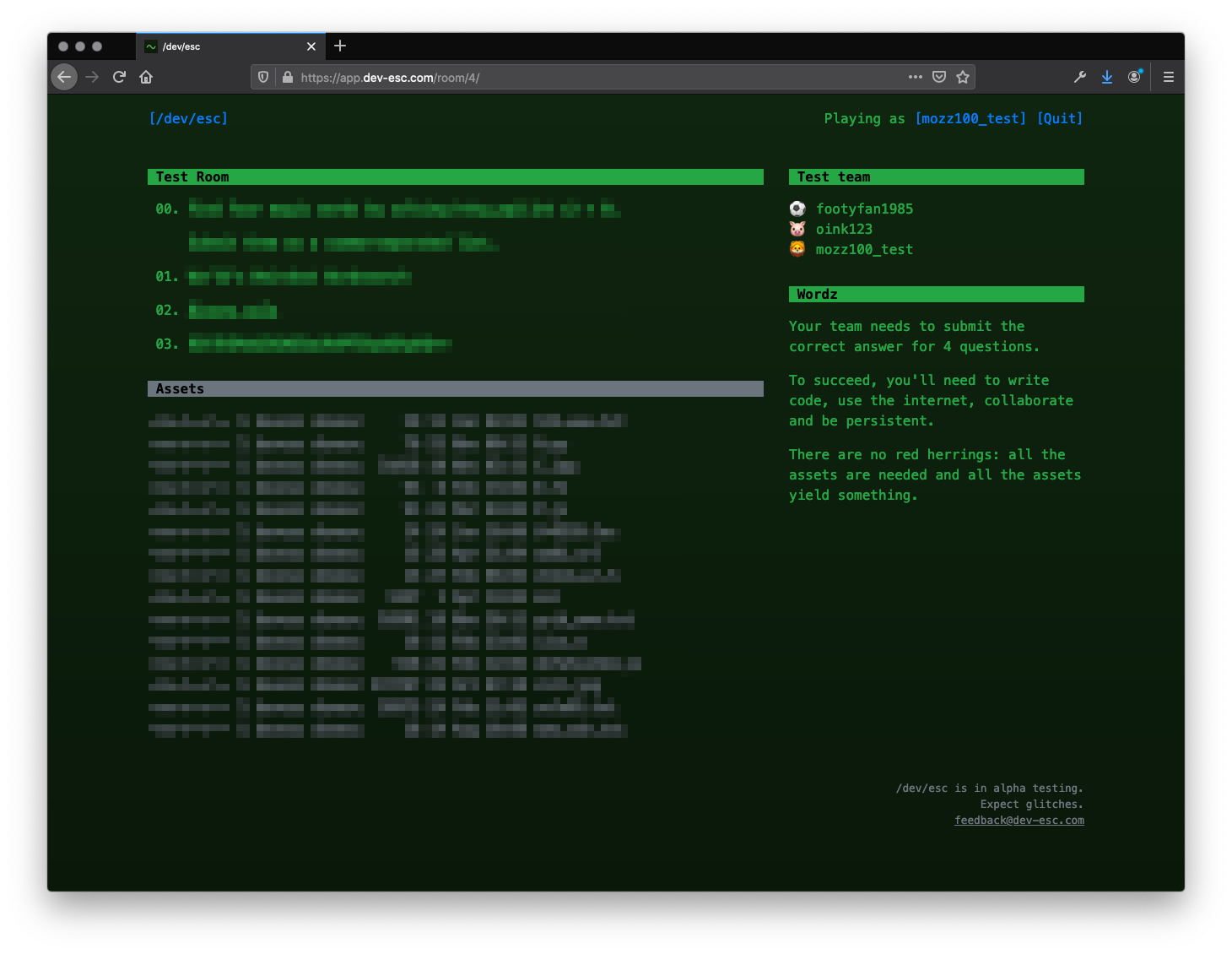 To start a game for your team, go to www.dev-esc.com. You can invite players by sending them access codes. Start for free, if you like, so you can be sure everything's in place before you pay. About paying: that's easy too, just pay with a card (until you do, progressing in the game will be impossible).
It's likely to be the cheapest and most inclusive team building activity you'll find for a team of software devs. Compared to Go Karting, getting together for a meal or drinks, playing softball or even other video games, it's less expensive, more challenging and will help your team bond through the satisfaction of cracking the puzzles.
A typical agile team should set aside maybe an hour and a half to play the game, either completely online or IRL. Only the contact details of the person who pays are required. Previous teams have wanted to show off their achievements on social media afterwards.
Here are some of the comments received about /dev/esc from teams that have paid and played already:
"Cool game. Just as chaotic as the real life escape rooms" - Liam M, sharecare.com
"A really fun team game to play, worked really well in a team with a wide mix of programming experience!" — Conrad J, moneyhub.com
"Loved doing this… the progress felt very clearly in each question… required not only our escape room skills, but also our programming skills" — Ofer H, armis.com