Yellows - The Warrington Town Homepage
Warrington Town were one of the first teams in North West Counties League to have a web presence. The site I designed, co-wrote and ran in the mid/late-90's to early 00's earned recognition as a Daily Telegraph Site of the Day, was featured on TV and won numerous awards for lower-league football websites. Sadly, it no longer exists.
I resurrected it to celebrate a strong cup run in 2014.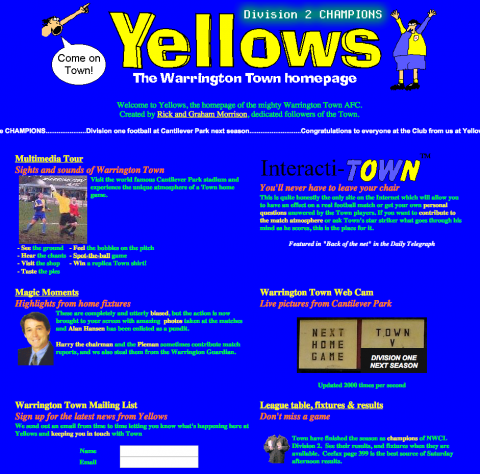 Some highlights:
Multimedia Tour - smell the pies, spot-the-ball…
InteractiTOWN - request chanting from the comfort of your own home. Featured by the Daily Telegraph.
Entire site less than 3MB
See it for yourself below!